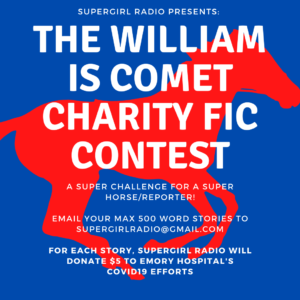 We enjoy our listener theory that William Dey is secretly Comet the Super-Horse so we thought we'd have a little fun with it for a good cause.
Supergirl Radio presents the William is Comet Fanfic Contest to raise money for Emory Hospital's COVID-19 Response! To help them with their efforts, Supergirl Radio will be donating $5 for every fanfic submission!
HOW TO ENTER: Write a 300-500 word, G-rated (for All Ages) story, set in the world of The CW's Supergirl, that involves William Dey as Comet the Super-Horse and send it to [email protected]. Your story could focus on William as Comet or it could tell the story of any character or ship that you'd like, as long as somewhere in it, William is Comet the Super-Horse. We are allowing up to five story submissions per person.
DEADLINE: May 31, 2020
HOW WE WILL JUDGE: Supergirl Radio hosts, Morgan Glennon and Rebecca Johnson, will narrow submissions down to their three favorite stories and those will go to a special guest judge to pick a winner.
WHAT YOU WILL WIN: The winner will receive a piece of Super-Pets merchandise!
About the author