As we are getting super-close to the upcoming crossover between Supergirl and The CW's The Flash, CBS released today a epic poster featuring the Girl of Steel and the Fastest Man Alive together in a comic book fashioned cover as Melissa Benoist and Grant Gustin have a race together!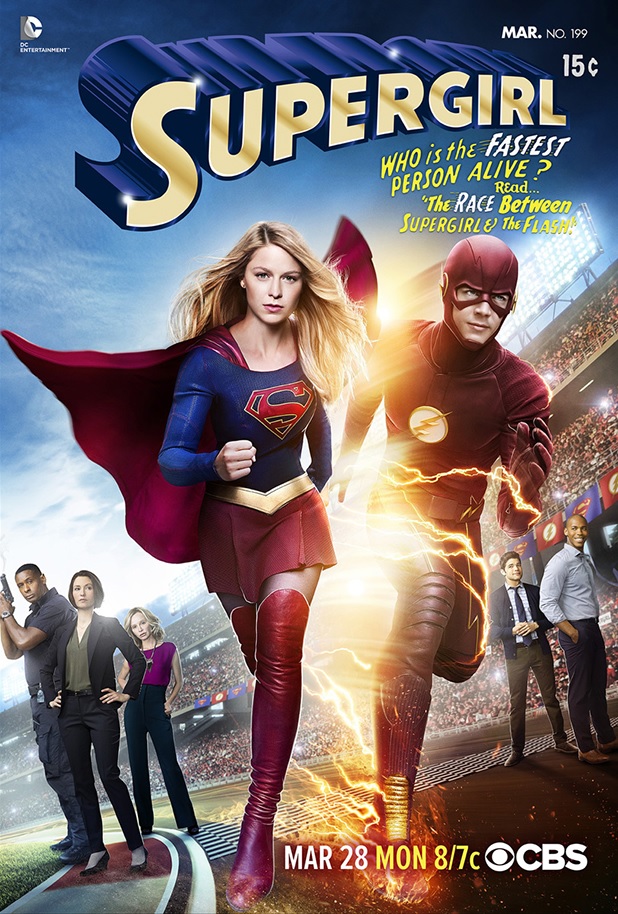 We also got the official episode description for the episode which will be titled "Worlds Finest" and it reveals exactly how Barry Allen will be crossing over into this Earth and the synopsis also confirms the epic villain-team up featuring Livewire and soon-to-be Silver Banshee!
"SUPERGIRL GAINS A NEW ALLY WHEN THE LIGHTNING-FAST SUPERHERO 'THE FLASH' HELPS HER BATTLE LIVEWIRE AND SILVER BANSHEE, ON "SUPERGIRL," MONDAY, MARCH 28

Grant Gustin Crosses Over as "The Flash"

"Worlds Finest" – Kara gains a new ally when the lightning-fast superhero The Flash (Grant Gustin) suddenly appears from an alternate universe and helps Kara battle Siobhan, aka Silver Banshee, and Livewire in exchange for her help in finding a way to return him home, on SUPERGIRL, Monday, March 28 (8:00-9:00 PM) on the CBS Television Network. Grant Gustin crosses over as The Flash.

Supergirl stars Melissa Benoist (Kara Danvers/Supergirl), Calista Flockhart (Cat Grant), Chyler Leigh (Alex Danvers), Mehcad Brooks (James Olsen), David Harewood (Hank Henshaw/J'onn J'onzz), and Jeremy Jordan (Winslow "Winn" Schott).

Recurring guests in "Worlds Finest" include Jenna Dewan-Tatum (Lucy Lane), Chris Vance (Non), Italia Ricci (Siobhan Smythe), Brit Morgan (Leslie Willis/Livewire), Christopher Showerman (Tor), Jay Jackson (News Anchor), and Dan Warner (Fire Captain).

Guest stars in the episode also include Grant Gustin (The Flash/Barry Allen), Jamie Kaler (Pundit #1), Samantha Harris (Pundit #2), Zarek King (Young Boy), Sarah Robson (Dr. Amelia Hamilton), Harriet Sansom Harris (Sinead), Dawn Greenidge (Pedestrian Woman)

STORY BY: Greg Berlanti

TELEPLAY BY: Andrew Kreisberg & Michael Grassi

BASED ON: The Characters Appearing in the DC Comics

DIRECTED BY: Nick Gomez.
Supergirl returns Monday, March 14, 8/7c on CBS.
About the author